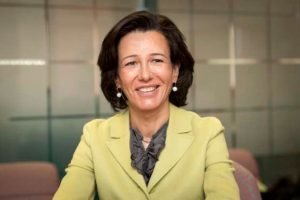 Net Worth 2020  $ 800 Million
Ana Patricia Botín-Sanz de Sautuola O'Shea, DBE (born 4 October 1960) is a Spanish banker who has served as the executive chairman of Santander Group since 2014. She is the fourth generation of the Botín family to hold this role. Prior to this she was chief executive officer (CEO) of Santander UK, a role she held from December 2010 until her assumption of the chairmanship.
In February 2013, she was ranked the third most powerful woman in the UK by Woman's Hour on BBC Radio 4. In 2019  ranked her the 8th most powerful woman in the world, having been in the top 10 for the last 4 years.